SimBin hat mit RaceRoom - The Game 2 ein kostenloses Rennspiel veröffentlicht - Infos und Launch-Trailer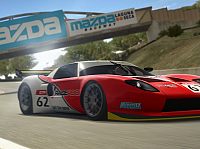 Die schwedischen Entwickler der SimBin Studios machen es noch einmal. Nachdem man im letzten Jahr die kostenlose PC-Rennsimulation RaceRoom - The Game veröffentlichte, legt man jetzt wie vor wenigen Tagen bekannt gegeben noch einmal nach.
RaceRoom - The Game 2 lautet der Name des Spiels das ebenso wie sein direkter Vorgänger umsonst heruntergeladen werden kann. Neben allen bisherigen Spielinhalten, wie dem Formula RaceRoom-Boliden und Chevrolet Camaro auf der Fahrzeug-, sowie Hockenheimring (Grand Prix-Strecke, Kurz- und National-Version) auf der Streckenseite, kommen noch drei neue Autos und Rennkurse dazu.
>>> ganzen Beitrag lesen auf motorsport-total.com <<<